Martin Völker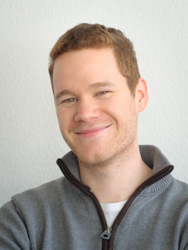 Contact

EEG and Brain Imaging Group
University Medical Center Freiburg
Engelbergerstraße 21
79106 Freiburg, Germany
About me
2013 - B.Sc. Biology. Bachelor's Thesis "A BCI for online control of robotic devices" at the iEEG and Brain Imaging Group in cooperation with the Machine Learning Lab Freiburg.
2015 - M.Sc. Biology (focus: neuroscience). Master's thesis: "Error-related brain responses in high-density EEG", iEEG and Brain Imaging Group Freiburg.
Current Work
Development of a brain-computer interface (BCI) for paralyzed patients. The aim is control of autonomous robots with cognitive high-level signals decoded from EEG, ECoG or stereo EEG.